FMS 2022
, Phu Quoc, Vietnam
6th International Symposium on Frontiers in Materials Science
November 21st - 23rd, 2022, Phu Quoc Island, Kien Giang, Vietnam
Overview
It is our great pleasure to announce that the 6th International Symposium on Frontiers in Materials Science (FMS 2022) will be held in Phu Quoc Island, Vietnam, from 21st to 23rd November 2022.
This event, which continues on a delayed FMS 2021 (Hsin-chu, Taiwan, 2021) due to Covid-19, covers a broad range of research activities in all areas of modern materials science.
Phu Quoc is an isolated island of Vietnam located in the most southern area of the East-Sea. It is a favorite and very attractive location for tourism worldwide and is currently open for foreigners without quarantine. It is likely that Phu Quoc is going to be fully available soon. Even if the Covid-19 situation in Vietnam worsens it would stay opened for travelers who have two shots of common vaccines such as Moderna, Astra-Zeneca or Pfizer.
However, to be safe, FMS 2022 will be organized as a hybrid symposium with online and offline meetings in parallel. The online meeting will be available freely to all registered participants.
Phu Quoc is usually in a peak tourism season in November so please register for your participation as soon as possible so we know how many meeting rooms and equipment should be rented. The temperature in November in Phu Quoc is above 30 degree Celcius.
Main Subject Catergories
Contributed reports are called describing works in materials science, engineering, and related applications. Topics and technical areas of interest include but are not limited to the following image: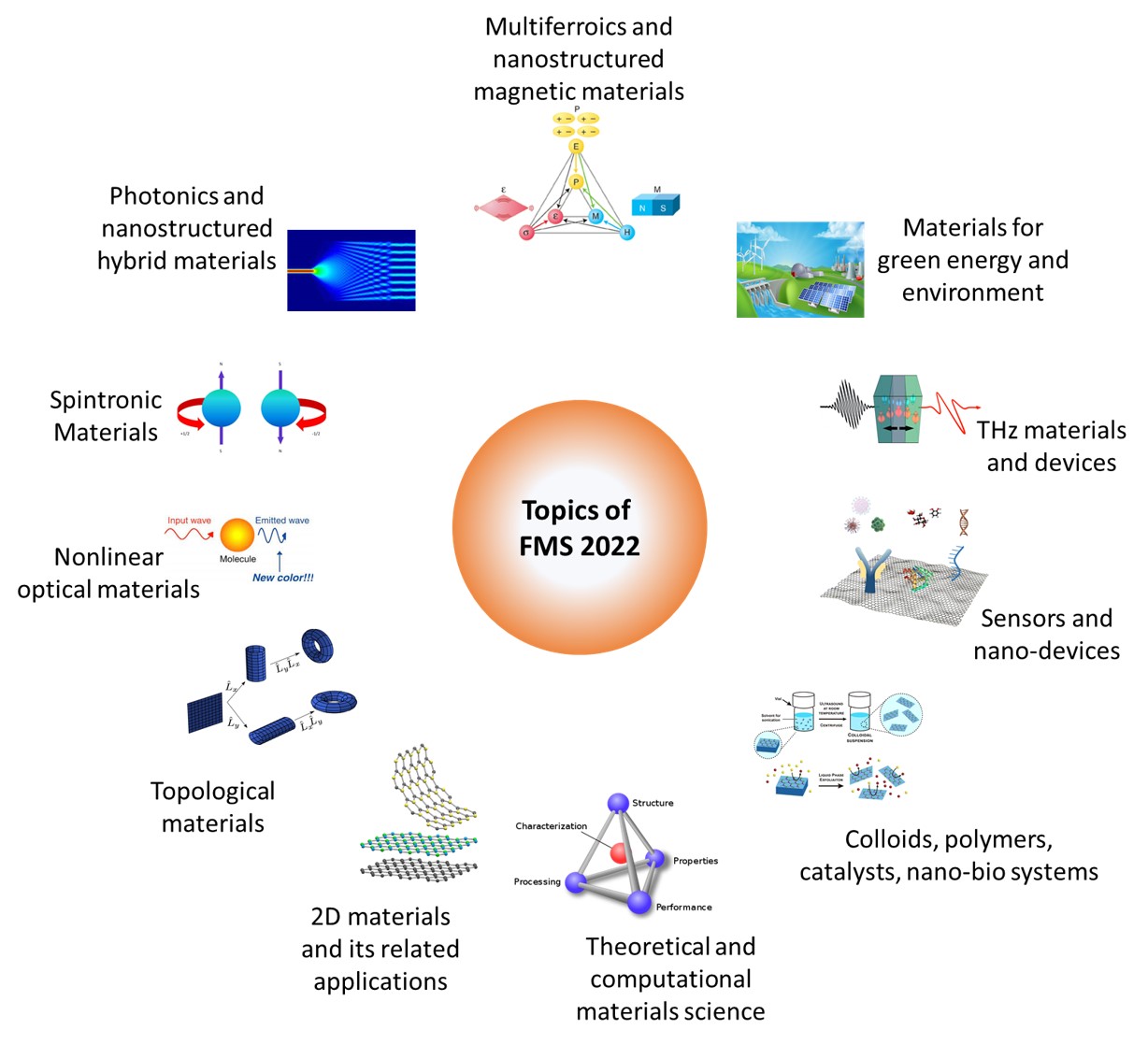 Scientific Program Committee Members
| Name | Institution | Country |
| --- | --- | --- |
| Masato Yoshiya | Osaka University | Japan |
| Tomoyuki Yamamoto | Waseda University | Japan |
| Michael Lang | Goethe University Frankfurt | Germany |
| Vu Ngoc Tuoc | Hanoi University of Science and Technology | Vietnam |
| Dinh Van Trung | Vietnam Academy of Science and Technology | Vietnam |
| Markus Muenzenberg | Greifswald University | Germany |
| Wu-Ching Chou | National Yang Ming Chiao Tung University | Taiwan |
| Hyung Kook Kim | Pusan National University | Korea |
| Hoang Nam Nhat | VNU-University of Engineering and Technology | Vietnam |
Important Dates
Early-Bird Registration Open: May 15th, 2022
Early-Bird Registration Close: Jun. 15th, 2022
Early-Bird Extended to: Jun. 30th, 2022
Early-Bird Registration was Closed!
Abstract Submissions Open: Jun. 9th, 2022
Abstract Submissions Close: Aug. 31st, 2022
Manuscript Submissions Open: Oct. 1st, 2022
Manuscript Submissions Close: Dec. 31st, 2022